DIGITECH ASEAN THAILAND 2021 ONLINE VERSION CONCLUDED, LOOKING FORWARD TO PHYSICAL VERSION IN 2022
---
Bangkok, Thailand, 13 January 2022 – Due to ongoing Covid-19 restrictions, DIGITECH ASEAN THAILAND 2021 – ASEAN's business event for the technology and digital industry - was staged in an online format from 24th to 26th November 2021. 
Organized by IMPACT Exhibition Management Co., Ltd, the online edition provided the market platform for tech and digital players to conduct their business and marketing activities. The event also acted as a knowledge exchange platform to share expertise and experiences covering key sectors such as Software for business (CRM, HRD & HRC, Procurement & ERP, etc.), Artificial Intelligence, Cyber Security, E-commerce & Digital Marketing, Data & Cloud, Smart Solutions & IoT and 5G Technology & Network.
Over 100 tech and digital brands from Thailand, Singapore, Hong Kong, Indonesia and South Korea participated and showcased their latest solutions to over 1800 online attendees from 27 countries. The event also saw the attendance of over 126 key buyers carrying out over 378 online business- matching meetings with potential partners and suppliers. 
In addition, there were over 44 webinars covering topics on latest industry and technology trends and strategies, conducted by over 54 industry experts and professionals, attracting over 3200 viewership. Other online activities included live video product demonstrations, and on-demand video presentations that provided effective attendee and industry engagements over the 3-day event. 
Participating companies were generally happy with the results of their participation. Mr. Chu Taksuda, sales manager of Hitachi Asia (Thailand) Co., Ltd. said "We are pleased to be the official Smart Manufacturing Partner at DIGITECH ASEAN Thailand to showcase our solutions. Overall it was a pleasant experience and it enable us to gain good exposure and sales connections." 
With face-to-face restrictions brought about by Covid-19, many participants see this online event as an alternative networking platform. According to Mr. Ekkaphot Chudet, marketing consultant at Zoho Corporation, one of the highlights of Zoho Corporation's participation was that the company was able to establish good networking opportunities with like-minded industry players. 
The organizer is pleased that this online edition has successfully served as an alternative market platform for participants to continue with their business activities in the digital sphere, especially in business, knowledge and networking exchanges. It has allowed companies to continue to do business, promote their brands, maintain customer relations, stay connected with industry peers, and get updated on market trends. 
Nevertheless, moving forward in anticipation of lifting of travel restrictions in 2022, DIGITECH ASEAN THAILAND looks forward to resuming its original format as a face-to-face exhibition and conference that will take place physically at IMPACT Exhibition and Convention Centre, in Bangkok, Thailand from 23rd to 25th November 2022. 
As summed up by Mr. Paitoon Chansuk, sales engineer at iCONEXT CO., LTD., "This has been a very good online business event for our tech and digital industry. However, we are looking forward to taking up a physical booth next year to be finally able to engage with our customers and partners in a face-to-face setting." 
For more information, please contact Ms. Pinyaphat Meesingpattarakhun Tel. +66(0)2-833-5370 
and Email info@digitechasean.com or Visit the website www.digitechasean.com and facebook at www.facebook.com/digitechasean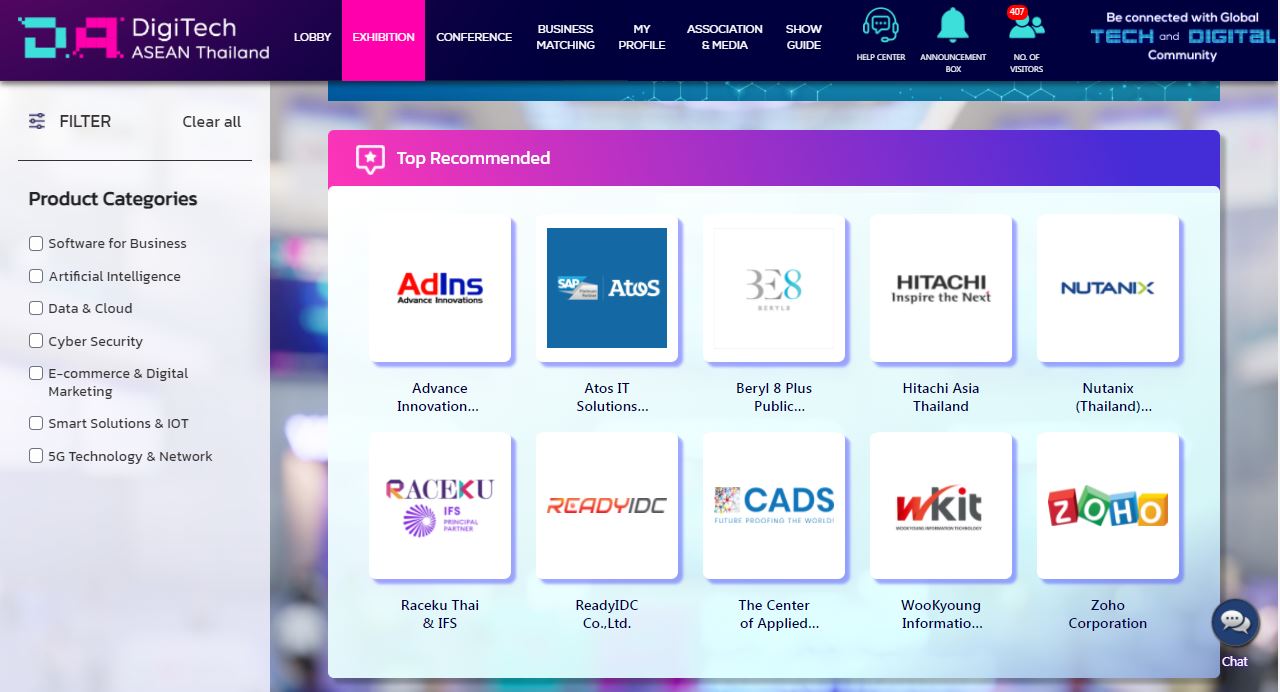 --- END ---
Press enquiries:
IMPACT Exhibition Management Co., Ltd.
Surerat Kraimanee, Senior Marketing Executive
Tel: +66 (0) 2833 6336 or +66 (0) 96-515-5667 Emaill: sureratk@impact.co.th